The museum of seasonal change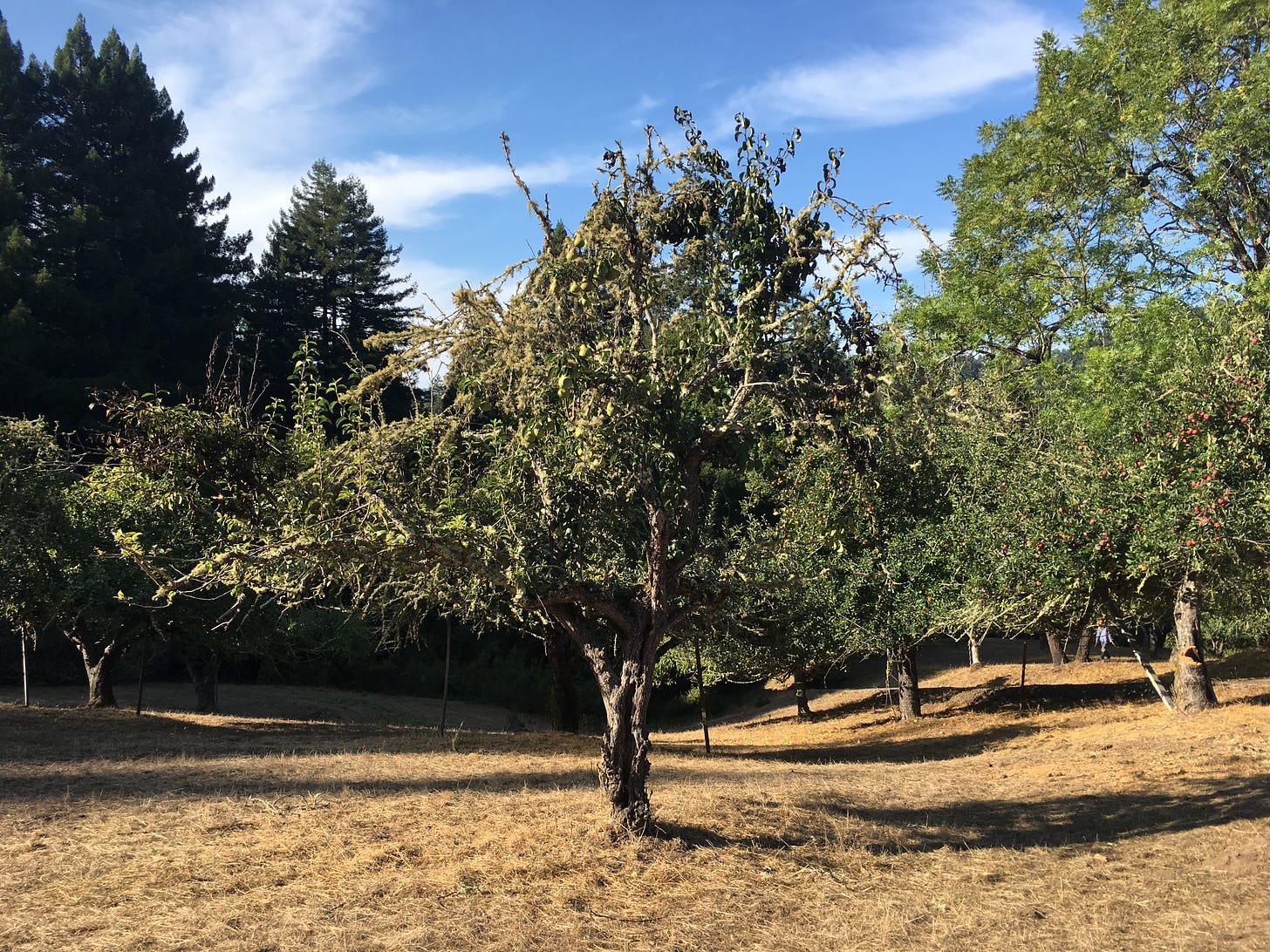 Hi friends,
Last time I mentioned I was reading How to Do Nothing by Jenny Odell. I'm still thinking about it on vacation on the West Coast. Like Odell's narrative, my family is strung along the California coastline, and many of us have some kind of creative eccentricity rooted in our experience there. One of the gifts of the book was its help in focusing on who and where I'm from.
Odell talks early on about conceptual artworks by John Cage and others. Rather than focusing on the idea of a piece like 4'33", she frames the composition as an exercise in a different quality of attention — an invitation to strengthen (or maybe exfoliate) our view of the relationships which produce the world around us.
Her discussion made me think of my father's mother, Joyce, who started making art in San Diego in the 70s and created several conceptual installations about more-than-human ecology. She once proposed filling a local park with an enormous grid of deciduous trees, which she called The Museum of Seasonal Change. She also maintained a lifelong obsession with human and animal anatomy (her favorite necklace was made of deer vertebrae and her living room décor was a human skeleton). Early on, she used her drawings of pigeons to create an "alphabet of bones," in which she composed her own poetry and graphics.
Her most ambitious project from this period was a series of ice sculptures which were placed in front of public buildings and spelled out things like SURVIVAL and WE THE PEOPLE. The water that went into these word sculptures she painstakingly collected from fifty states and nations around the world; as the words melted, they evaporated back into the atmosphere together.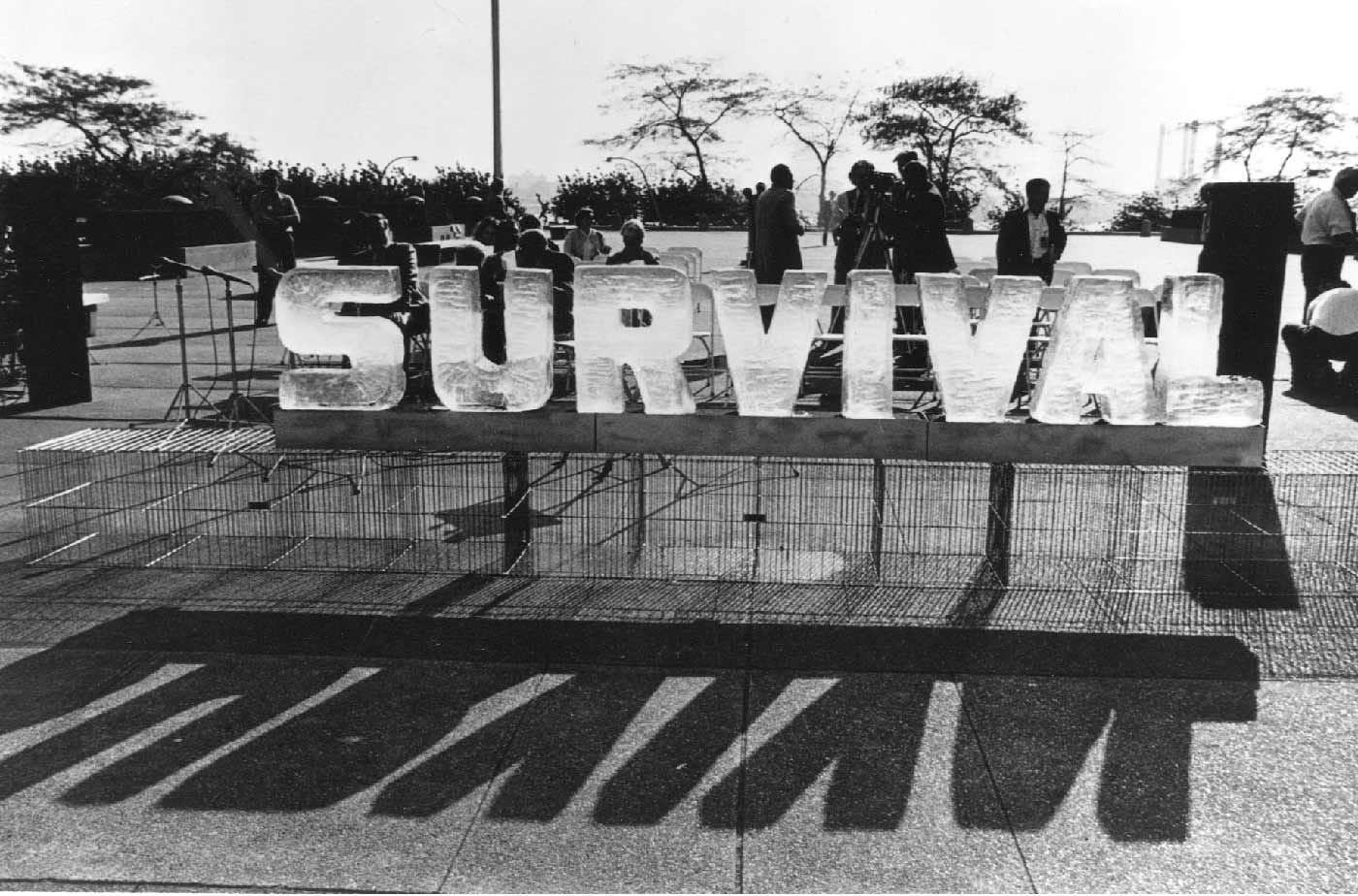 Over the years these stories have become so familiar to me that, like 4'33'', they can feel like one-liners. But How to Do Nothing suggests that the real power of the artworks lies beyond the "conceptual" part, in the realm of expanded perception. It makes sense that they took on the format of signs and symbols which direct attention outward. For Joyce, I think, alphabets and tree groves and water cycles and skeletal systems were naturally-occurring frameworks for contemplating relationships of cultural and ecological interconnection.
Here's an image of Joyce installing the Namewall, which covered each tile of the LAX arrivals hallway with a different given name. I love how it moves from the care of the individual gesture to the infinitely multiplying field. That's the whole idea, right?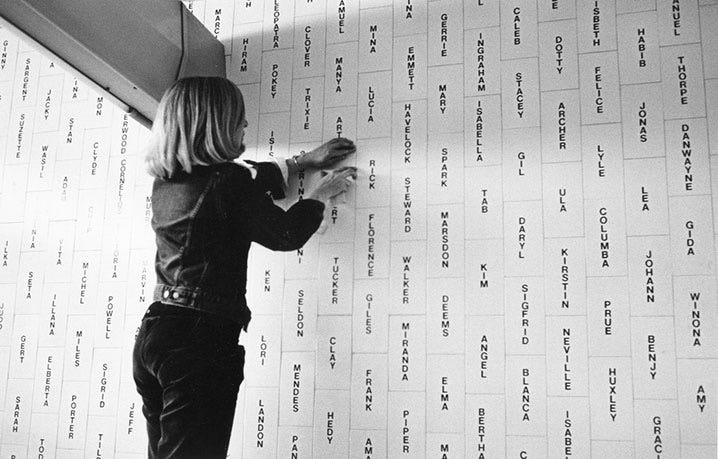 ---
How to Do Nothing ends in Santa Cruz County, in a tiny town called Corralitos and the nearby estuary of Elkhorn Slough. It just so happens that this is where my other grandmother, Mary, lived for many years. She was a very different artist, mostly working in landscape painting and printmaking, but she found a similarly sacred interconnection in the landscapes around her. The Slough sustained her spirit and framed her convictions, and in return she depicted and defended it with her full attention.
Her 80-year-old apple orchard, where I'm on vacation this week, is its own kind of museum of seasonal (and epochal) change. The second-growth pine forest is lush this summer, but you can still make out the stumps of old-growth firs. The mowed orchard is brushy in the heat and the gnarled fruit trees are heavy with Gravensteins and Pippins. It's an artificial landscape grafted onto a natural one, both marked by centuries of settler-colonial land use, both threatened by climate change, both requiring traditions of care and forms of knowledge that our youngest generation can hardly provide.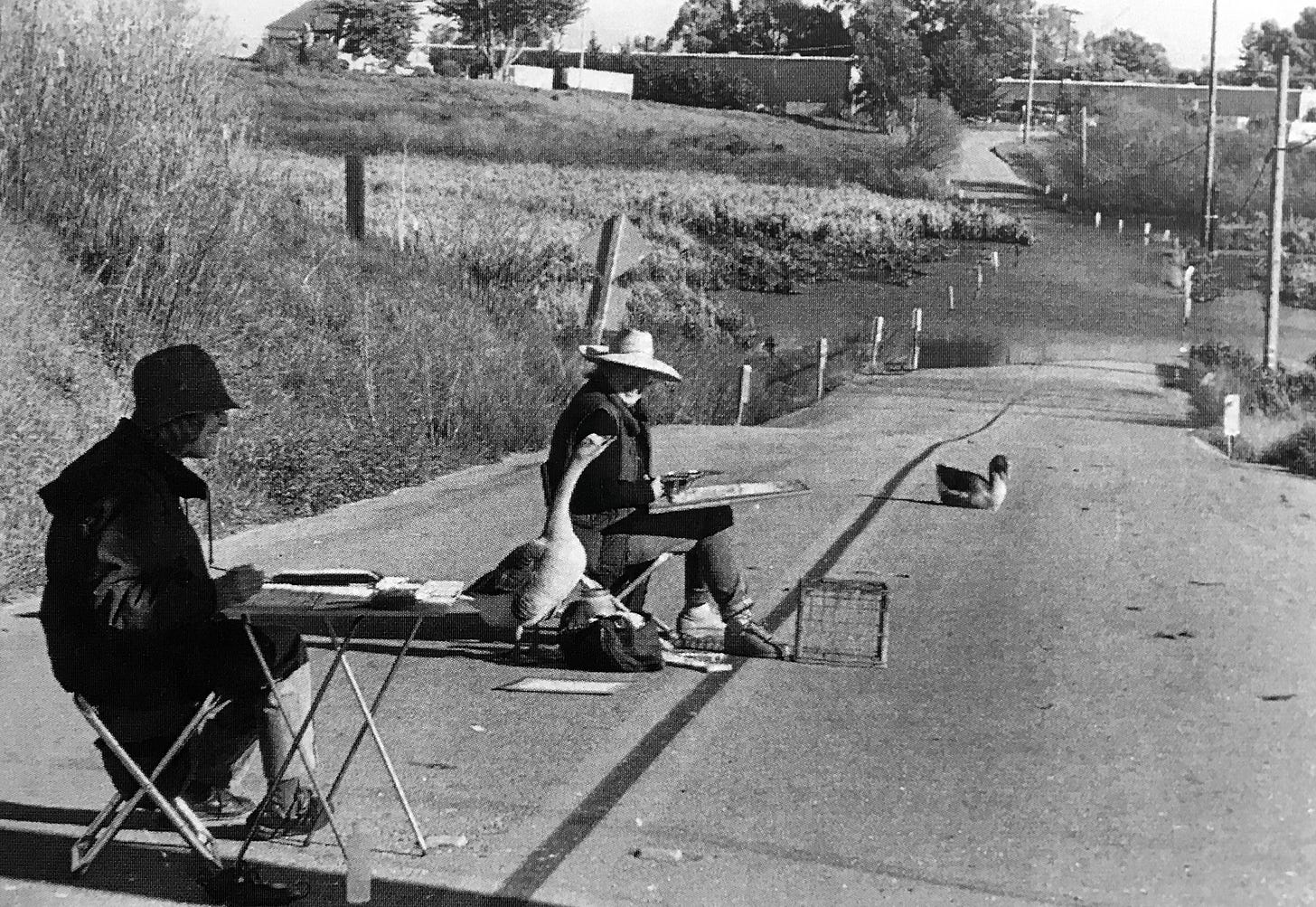 Here's Mary (in the center) painting with animal and human friends at Elkhorn Slough

Mary's clapboard house is still brimming with art which not only represents the landscapes of the coast, but speaks in a language of feminist environmental mythology. One series of prints shows the entwined skeletons of a human child and bear cub, which were found buried together at an ancient archaeological site nearby. Another shows an abandoned pleasure boat, with carved swans on its aft and prow, left up in dry storage in the middle of a field. She brought these ready-made constructions — both the patrimony and the detritus of California's cultural landscape — into the vibrating field of her images. I'm not sure Mary ever read Donna Haraway (though they lived and worked within an hour's drive of each other), but her works are rich with the language of "making kin" in a damaged world.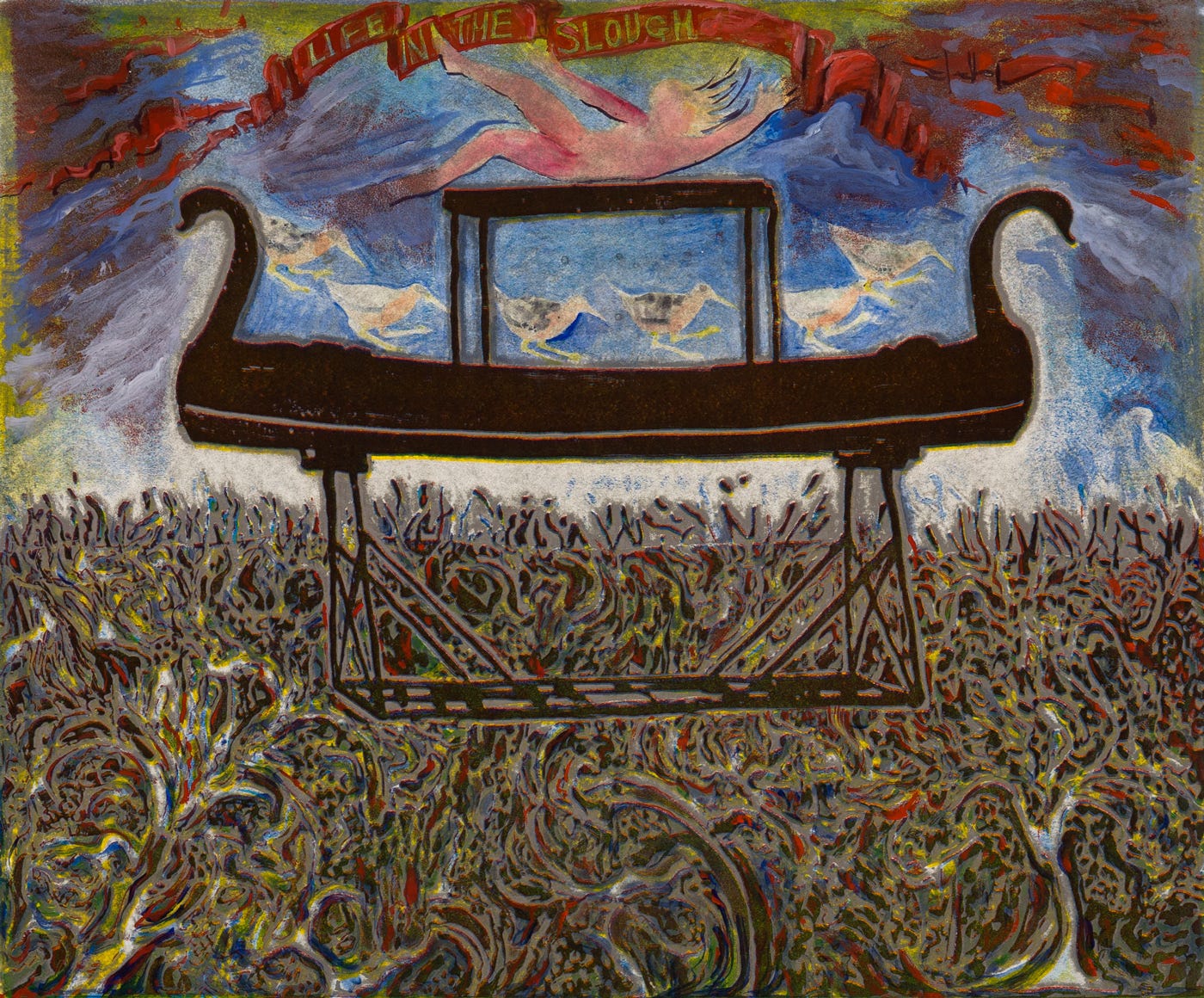 Anyway, I hope you read How to Do Nothing. Maybe Odell's lines of thinking will lead you to new trails through familiar landscapes. Maybe it will help you trace the root system of your family history. I'm sure that everyone getting this email has some amazing matriarchs, and I would love to hear their stories, too.

Co-inhabiting,
Leo